One week, in February, it snowed here in Nashville. Locals told me that it was a "newsworthy" amount of snow and the town was shut down for days. My apartment complex was covered in snow, the grass and sidewalks all solid white. It was beautiful! I kept an eye on the temperatures using my phone, and after about 5 days of being below 20 degrees, it finally warmed up to 32. I decided to bundle up and venture out. Everything around me was still covered in snow, none of the streets had been plowed, and it was really slippery. But I was so tired of being inside, I figured I'd take a walk and see if I could make it around the block.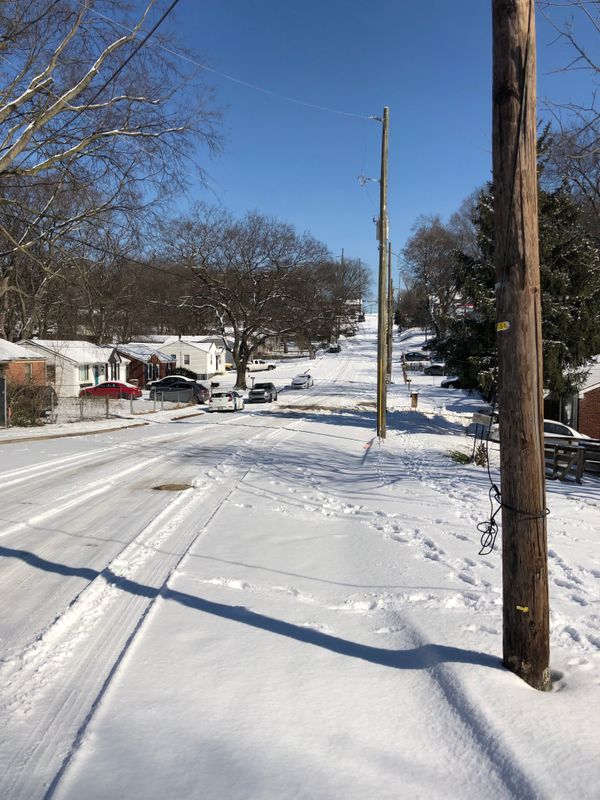 I made it up this hill, very slowly (because I'm super clumsy!). Once I got to the top, I decided to keep walking. It felt so good to be outside, even a little dangerous. I was thinking about how hard it must be for the whole city to deal with this weather, when I rounded a corner and saw a completely plowed and dry street. Three streets from my house, it looked like a different world. I was shocked. I walked a couple of more miles and all the streets were plowed and dry, with lots of snow on the sides - nothing like the street I lived on. 
I realized that this was a fantastic metaphor for life. If you only ever experience what is directly around you and never venture away from it, you might assume that the whole world is dealing with the same things you are. I assumed that the whole city looked like my street and I was wrong. That assumption made me act a certain way, but it wasn't the complete picture. 
But since this is a blog about being a Brave musician, how can we apply this to music? Some things that crossed my mind were the following assumptions: 
The music that we learn, or is taught to us, is the same music everyone learns. (This can be applied to anything we learn about - history, theory, transcriptions, albums, artists, etc.) 
Your experience is indicative of all other experiences. 
Performance practices and skill levels are universal. 
The gatekeeping and who gets the gigs works the same everywhere. 
Perspective is a really valuable thing. We need to be willing to not only experience things outside our own bubble, but also listen to the experience of others, especially if they differ from our own. We can learn so much by listening, believing, and working to understand what is happening to others, even when it may not be happening to us. 
How could this be applicable to other aspects of the human experience? What is your "this has happened to me" story? What assumptions have limited you as a musician? What was the benefit of learning that your assumption was incorrect?  Share in the Brave Musician Forum or tag @brave_musician on IG. Find Your People.